Ok, let me set the record straight on my Sarah Palin view. I personally like this lady. Perhaps it's because liberals hate her, perhaps it's because she is a hunter, an outdoorsWOMAN. Perhaps it's because she actually seems very down to earth. But mostly I think it's because she says what's on her mind, sometimes dumb, sometimes not "PC" sometimes way too many "You Betcha's" but she speaks the truth as she sees it. AND she sees 90% of the same truths MOST Americans that have not been media brainwashed…She has her flaws, but what I see in her is strength. A strength not many women or MEN have. She makes Obama look like a little wimp. How's that? you may ask…Sarah Palin took the media's best shots, she took Saturday Night Lives best shots, she took Obama's best shots, she NEVER ran from ANYONE. She never put her "Mouthpieces" on the war path with ANY news organizations even though they never gave her a fair shake. Compare that courage with Obama's…"War on Fox" ring a bell?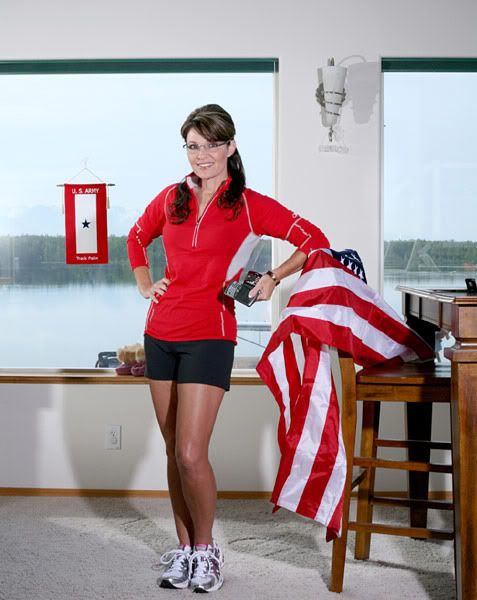 Now, Sarah Palin has stepped down from Alaska's Highest office. She QUIT with one more legislative session still to go in her term. Personally the reason she gave was not good enough for me, but it appears that it was good enough for Alaskans. She apparently was very effective as Governor until she hitched her wagon to McCain's trainwreck. She basically stepped away from her job already during the campaign, and since the election loss she has been under immense scrutiny by the liberal press. She had to deal with all the "Extra curricular" activities brought on by her run for VP, which was taking away from her effectiveness as governor. So truth be told she wasn't really doing much for the state of Alaska since mid 2008…Judge that as you may, but from what I hear from ALASKANS she did the right thing by leaving the state in the Lt Gov. hands rather than be a lame duck Governor who spent too much time on the national stage….It will be used against her I'm sure if she decides to run for higher office.
Her book is a HUGE success, I have not read it yet, but I am planning on getting it soon…She calls it going rogue, which to me is part and parcel of the problem. She didn't go "Rogue" enough during the McCain campaign. I've listened to almost every interview she's gave, and I must say she seems WAY more confident and much better prepared to answer the questions than she was during the campaign. What I gather is McCain's campaign kept her in such a bubble that she was worried about saying anything….Now it seems she has the freedom to say what she wants. I would like her to be a little more aggressive toward her libtard critics, I'd like her to get a little more "Alaskan"on their ass, but I understand she is keeping her options open for future decisions….
After all of that, the question really is would I place a vote for her for POTUS or not? Mmmmm. It really depends on the opposition I guess. Obama will run in 2012, we have another year to find someone with conservative values to oppose him. Sarah Palin's views are inline with MOST conservatives. but so are a couple of other "Possibles." What I will tell you is: IF Sarah Palin is on the ticket OPPOSING Barack Hussein Obama, I'll feel MUCH better about voting for her than I did for McCain. I voted for McCain ONLY because Sarah Palin was on the ticket,  and I don't regret the vote. I don't know if we would be better off now if McCain would have won. BUT; I do know 3 things that would be different. The Decision on Afghanistan troops would have been made, this HC debacle would not be happening, and the 9/11 terrorists would not be coming to NY for trial.  Other than those three things I'm not sure much would be different under McCain/Palin
I think Sarah Palin would be a great Senator or Rep, I'd love to see the chaos her and Michelle Bachman could create if they were both in Congress. That would be great. Plus it would give her a chance to prove herself on national/world issues…
My overall feeling about Sarah Palin is: She's HAWT. She's Smarter than she seems, and she is a very strong female. I know for a fact that if she was POTUS right now, she'd be better than the current douchebag, and I'd be willing to bet she'd be MUCH better than GWB too….I could be wrong, but I don't think so.